SUMA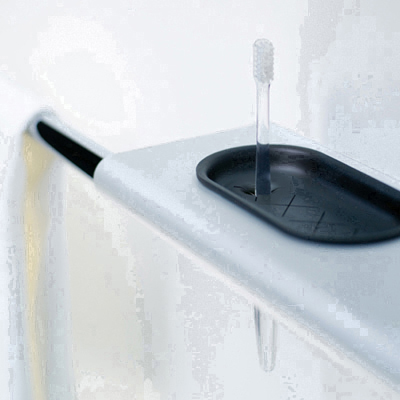 Features
A lineal series design which offers simple, clean solutions for bathroom accessories and the lowest requirement for wall piercing and mounting. Long bars are mounted with merely two wall fittings, with just one extra fitting as an option for bars of maximum length.
Moreover, the fittings can be slid along the length of the bar, allowing optimum flexibility of position, plus the opportunity to create multiple combinations of the series´ elements.
The system of bars allows additional items to be added later, should the need arise. Equally, this design allows total flexibility of position for the items originally fitted, so they can be adjusted effortlessly at any time.
This versatility facilitates total adaptation to any project, whether domestic or commercial, and continues to allow for an individual choice.
Versions
The countertop complements offer excellent functionality and very easy maintenance. An innovative anti-drop system of soap dispensers is available in both 200ml and 500ml.
Standard chromed brass bars from 18cm to 120cm, with a customised availability of any length.
The series´ robe hooks can be fixed at any point along the bar. The robe hooks are also available in an individual wall-mounted version.
Shelving of a variety from 23cm to 60cm in length, allows multiple customised combinations. These shelves accommodate the allocation of silicone pieces.
Availability of customised bars and shelves on request.
The opportunity is offered, as required, to add extra aluminium containers, a magazine display rack or mirrors may also be fixed to the bars.
Materials
Chromed brass, aluminium and silicone.
Designers
Nacho Lavernia and Alberto Cienfuegos
TECHNICAL DATA [PDF] /CATALOGUE [PDF]